How to play Pop/Rock on the Piano
Learn to play in minutes, not weeks with the Music Lyceum's system
Start Playing a Pop/Rock song in 30 minutes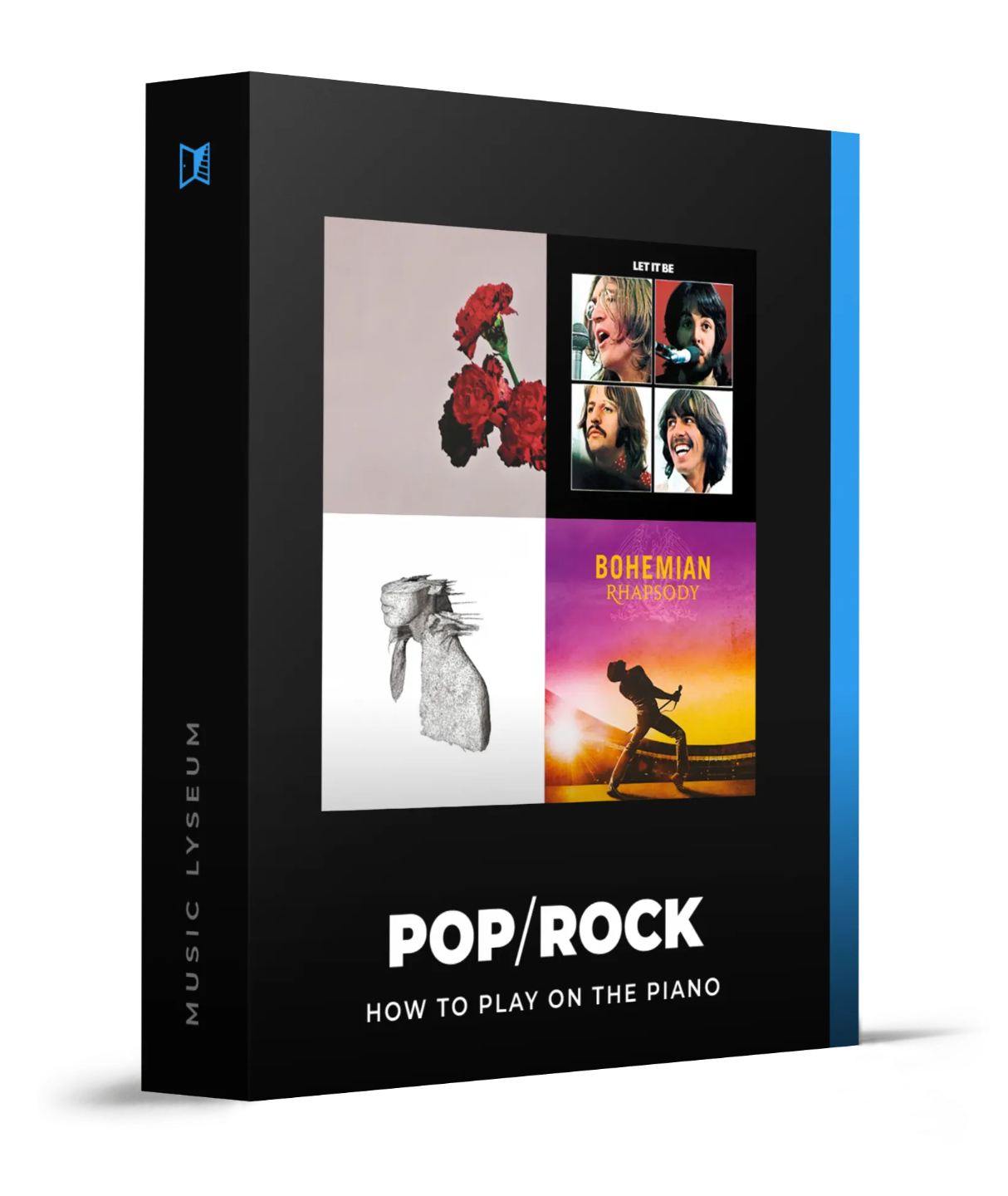 Give yourself the gift of playing The Beatles, Queen, Coldplay, Leonard Cohen and John Legend
Learn to play some of the biggest hits in the easiest, fastest way possible.
Music Lyceum's tried and tested method has proven to teach songs to absolute beginners in minutes, not days.
Learn to play Let It Be by The Beatles, Clocks by Coldplay, Bohemian Rhapsody by Queen, Hallelujah by Leonard Cohen and All of Me by John Legend in this easy-to-follow method, with a step-by-step approach.
Suitable for young children who have never played before as well as anyone who wants to learn to play the piano.
How it Works
Learn How to Play the Piano in 30 Minutes
How to learn and play the Piano in 30 minutes
I will help you...
Learn a simplified approach to playing the piano that is immediately enjoyable.
Start playing a song you love in less than an hour, ready to perform for your friends.
Skip the traditional sheet music barrier and awaken your talent and creativity.
Hear what other students have to say…
"I had given up with playing the piano. I couldn't get passed learning scales. I saw the videos of other students learning in under 30 minutes and was instantly intrigued. Thank goodness I took the course! I'm newly inspired and I've started playing songs I love!! Thank you!!"
- Greg P., Designer 
"This course was equal parts inspiring and educational. I love learning to play while playing a song! If you are reading this, get started on this course. You won't regret it."
- Carla M., Teacher
"My daughter has wanted to play piano for about two years. After a year of piano lessons, she wanted to stop as she wasn't enjoying it and it was hard for her. Music Lyceum has made her so excited about playing again. I'm so grateful. She knows how to play a few songs already and she only started a few weeks ago. Thank you!!"
- Mary T., Mother
From Sean.
When I created Music Lyceum, the world's first and only piano tablature learning system and the first company to offer an alternative to traditional piano sheet music, it was an effort to simplify the learning process. This mission has been achieved.
GET STARTED
What's Included
Each song includes a full course & the tabulatures
John Legend
How to play All of Me
Queen
How to play Bohemian Rhapsody 
Coldplay
How to play Clocks
Leonard Cohen
How to play Hallelujah
The Beatles
How to play Let it Be
Tablature System
How To Read Piano Tabs
How to play Pop/Rock on the Piano
$212$57
This course will teach you to play 5 Pop/Rock hits plus a bonus "Ode to Joy".
Through this process, you will not only learn these 6 songs, but you will be able to learn any of our other songs using the tabulature system in minutes.
GET STARTED